Moduron GP Motors Cyf – Caernarfon
Opening Hours
| | |
| --- | --- |
| Monday – Friday: | 07:30 – 18:00 |
| Saturday: | 08:30 – 15:00 |
| Sunday: | Closed |
Services Available
Car Service
Car Repair
Van & LCV Service & Repair
MOT Test Centre
Motorcycle Service & Repair
Electronic Diagnostics
Car Battery replacement
Exhaust Repair & Replacement
Brake Service & Repair
Tyre Fitting & Repair
Air Conditioning Service
Clutch Replacement & Repair
Diesel Specialist
Fleet Maintenance
Breakdown Recovery
Courtesy Cars Service
Car Collection & Delivery Service
While You Wait Appointments
Service & MOT Motor homes up to 6,500kg
Electrical Work
About Moduron GP Motors Cyf
We have been trading for over 7 years and have over 170 combined years experience in the motor trade, we specialise in VAG, BMW, Vauxhall, Ford and can work on any make and model of vehicle whether its petrol or diesel. We have been a Servicesure Autocentre for over 4 years and therefore we can offer you an industry leading National Warranty Guarantee, which should give you complete piece of mind motoring. This guarantee is backed up by a national network of other accredited independent businesses.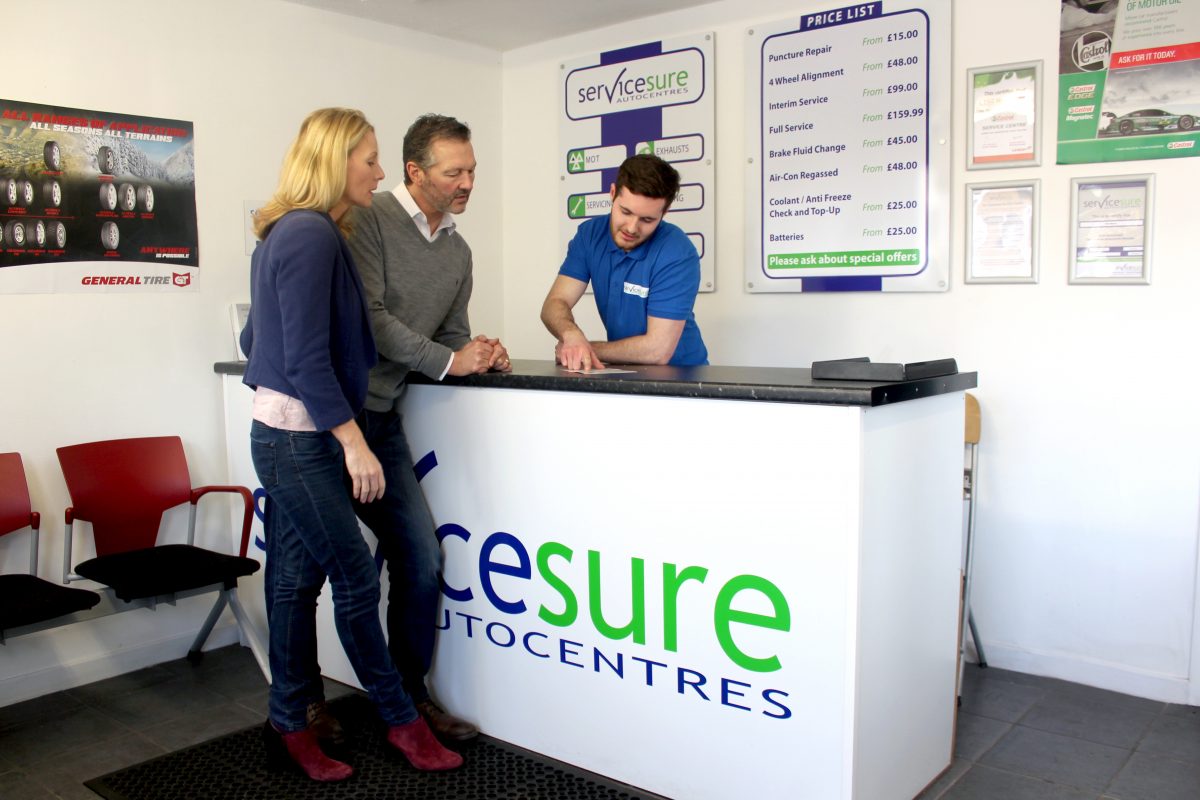 Give us 5 minutes of your time and we could be giving you £250!
We are always trying to improve the service we offer to our customers and value any feedback you give.
To leave feedback on the service you have received today please leave a review below and as a thank you for completing the questionnaire you will be entered into a prize draw and could win £250 worth of lifestyle vouchers*.
Reviews
by Servicesureautocentres.com customers
No comments provided

Carys Wilson

Quality of Work

5

Vehicle Cleanliness

5

Communication

5

Staff

5

No comments provided

Ceri Evans

Quality of Work

5

Vehicle Cleanliness

5

Communication

5

Staff

5

No comments provided

Colin Jones

Quality of Work

5

Vehicle Cleanliness

5

Communication

5

Staff

5

No comments provided

Craig Tomos LL54 6EU

Quality of Work

5

Vehicle Cleanliness

5

Communication

5

Staff

5

Always pleasant and accommodating

G Law

Quality of Work

5

Vehicle Cleanliness

5

Communication

5

Staff

5

V. good service!

G. Wood

Quality of Work

5

Vehicle Cleanliness

5

Communication

5

Staff

5

Very good

Gethyn Hughes

Quality of Work

5

Vehicle Cleanliness

5

Communication

5

Staff

5

No comments provided

Gwenllian

Quality of Work

5

Vehicle Cleanliness

4

Communication

5

Staff

4

Excellent service, very efficient

Huw Whyte

Quality of Work

5

Vehicle Cleanliness

5

Communication

5

Staff

5

No comment

Imahpar

Quality of Work

5

Vehicle Cleanliness

5

Communication

5

Staff

5

Very pleased that the work was done so quickly as we had a problem

K J C Cook

Quality of Work

5

Vehicle Cleanliness

5

Communication

5

Staff

5

Brilliant!!

Karen White

Quality of Work

5

Vehicle Cleanliness

5

Communication

5

Staff

5

No comments provided

Lee price

Quality of Work

5

Vehicle Cleanliness

5

Communication

5

Staff

5

No comments provided

M Roberts

Quality of Work

5

Vehicle Cleanliness

5

Communication

5

Staff

5

Staff very helpful

N Nicholas

Quality of Work

5

Vehicle Cleanliness

5

Communication

5

Staff

5

Excellent Service, highly recommended

Neil Thomas

Quality of Work

5

Vehicle Cleanliness

5

Communication

5

Staff

5

Cheapish

Patrick Thomas

Quality of Work

4

Vehicle Cleanliness

5

Communication

4

Staff

5

No comments provided

S Jones

Quality of Work

5

Vehicle Cleanliness

5

Communication

5

Staff

5

No comments provided

Will Sheridan

Quality of Work

5

Vehicle Cleanliness

5

Communication

5

Staff

5

A very good service they know there work

Anonymous

Quality of Work

4

Vehicle Cleanliness

4

Communication

4

Staff

4

No comment

Anonymous

Quality of Work

4

Vehicle Cleanliness

4

Communication

4

Staff

3

No comments provided

Anonymous

Quality of Work

5

Vehicle Cleanliness

5

Communication

5

Staff

5

clean garage

customer

Quality of Work

5

Vehicle Cleanliness

5

Communication

5

Staff

5

No further comments

Leri Jones

Quality of Work

5

Vehicle Cleanliness

5

Communication

5

Staff

5

Fantastic work after a shocking service at another garage. The team repaired my ca and made it back to legal standards

Kieran Rowlands

Quality of Work

5

Vehicle Cleanliness

5

Communication

5

Staff

5

No further comments

Darren Groom

Quality of Work

5

Vehicle Cleanliness

5

Communication

5

Staff

5

No further comments

J Johnson

Quality of Work

5

Vehicle Cleanliness

4

Communication

5

Staff

4

Very impressed

M Gilbertson

Quality of Work

5

Vehicle Cleanliness

5

Communication

5

Staff

5

No further comments

Dave Evans

Quality of Work

5

Vehicle Cleanliness

5

Communication

5

Staff

5

Provides excellent service. Da Iawn!

John G Roberts

Quality of Work

5

Vehicle Cleanliness

5

Communication

5

Staff

5

No further comments

Halliday

Quality of Work

5

Vehicle Cleanliness

5

Communication

5

Staff

5

No further comments

Elain Roberts

Quality of Work

5

Vehicle Cleanliness

5

Communication

5

Staff

5

No comments

Chris Hanks

Quality of Work

5

Vehicle Cleanliness

5

Communication

5

Staff

5

No comments

Shaun Hughes

Quality of Work

5

Vehicle Cleanliness

5

Communication

5

Staff

5

No comments

Hans Simmerman

Quality of Work

5

Vehicle Cleanliness

5

Communication

5

Staff

5

No comments

Customer

Quality of Work

5

Vehicle Cleanliness

5

Communication

5

Staff

5

No comments

Yoan Llewelyn

Quality of Work

5

Vehicle Cleanliness

5

Communication

5

Staff

5

No comments

Llew Williams

Quality of Work

5

Vehicle Cleanliness

5

Communication

5

Staff

5

No comments

William Lewis

Quality of Work

5

Vehicle Cleanliness

5

Communication

5

Staff

5

Excellent service, explained everything. Did the work there and then, would definitely go back.

Kevin Jones

Quality of Work

5

Vehicle Cleanliness

5

Communication

5

Staff

5

There was a problem with our vehicle on the way home (5 hour drive home) so we called in and the manager was very friendly and professional.

Mr M G Tandy

Quality of Work

5

Vehicle Cleanliness

5

Communication

5

Staff

5

No further comments supplied

Osian Jones

Quality of Work

5

Vehicle Cleanliness

5

Communication

5

Staff

5

No comments received

Customer

Quality of Work

5

Vehicle Cleanliness

5

Communication

5

Staff

5

No further comments received

Ian Roberts

Quality of Work

5

Vehicle Cleanliness

5

Communication

5

Staff

5

No further comments received

Peter Thornton

Quality of Work

5

Vehicle Cleanliness

5

Communication

5

Staff

5

No further comments received

R S Dafydd

Quality of Work

5

Vehicle Cleanliness

5

Communication

5

Staff

5

No further comments

Glenda Davies

Quality of Work

5

Vehicle Cleanliness

5

Communication

5

Staff

5

No further comments

Selwyn Bracegirdle

Quality of Work

5

Vehicle Cleanliness

5

Communication

5

Staff

5

No comments received.

Ann Parry

Quality of Work

5

Vehicle Cleanliness

5

Communication

5

Staff

5

Excellent

Mrs A James

Quality of Work

5

Vehicle Cleanliness

5

Communication

5

Staff

5

Cannot speak highly enough about the service we received at GP Motors. We were recovered here, and they went the extra mile to get us sorted.

Claire Bristow

Quality of Work

5

Vehicle Cleanliness

5

Communication

5

Staff

5

By far the best service I\ve ever received from a garage . The only garage I've 100% confidence in . Staff are very helpful .

Kevin hughes

Quality of Work

5

Vehicle Cleanliness

5

Communication

5

Staff

5
Leave a Review
on Servicesureautocentres.com
Follow Servicesure on Social Media