Shaw's Service Station – Kinmel Bay
Opening Hours
| | |
| --- | --- |
| Monday – Friday: | 8:30 – 17:00 |
| Saturday: | Closed |
| Sunday: | Closed |
Services Available
Car Service
Car Repair
Van & LCV Service & Repair
MOT Test Centre
Electronic Diagnostics
Car Battery replacement
Exhaust Repair & Replacement
Brake Service & Repair
Tyre Fitting & Repair
Air Conditioning Service
Clutch Replacement & Repair
Diesel Specialist
Fleet Maintenance
Car Collection & Delivery Service
While You Wait Appointments
Service & MOT Motor homes up to 6,500kg
Electrical Work
About Shaw's Service Station
Shaws Service Station is a VOSA approved MOT vehicle testing station (VTS) in Kinmel Bay, Rhyl, North Wales. Within easy reach of Abergele, Bodelwyddan, Pensarn, Prestatyn, Rhyl, St Asaph & Towyn. Close to local amenities. Whether you need an MOT, Service or your vehicle requires a repair, then we have both the expertise and the facilities to take care of your vehicle. Our professional team will ensure that our workshop provides immediate service at competitive prices. We have exerience working on all kinds of vehicles at Main Dealers. We have many regular customers who drop in when it's time for a MOT or service. Please feel free to contact our team at any time with your questions.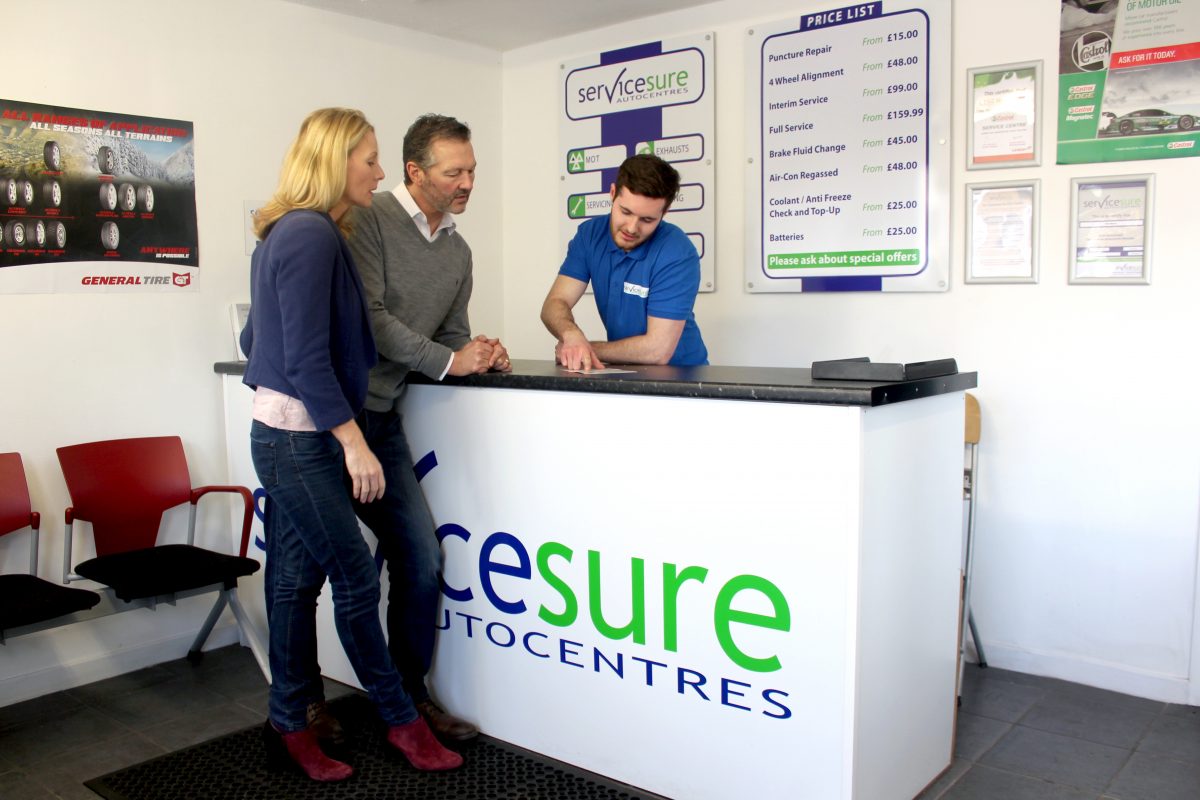 Give us 5 minutes of your time and we could be giving you £250!
We are always trying to improve the service we offer to our customers and value any feedback you give.
To leave feedback on the service you have received today please leave a review below and as a thank you for completing the questionnaire you will be entered into a prize draw and could win £250 worth of lifestyle vouchers*.
Reviews
by Servicesureautocentres.com customers
No comment

Kristian Hall

Quality of Work

5

Vehicle Cleanliness

5

Communication

5

Staff

5

Amazed at the sevice here. 1/3 of the price of the main dealer but 5* service all round.

Olivia

Quality of Work

5

Vehicle Cleanliness

5

Communication

5

Staff

5

Seemed to take a long time for off the shelf battery and alternator

H D Turnbull

Quality of Work

4

Vehicle Cleanliness

5

Communication

5

Staff

3

No further comments provided.

Customer

Quality of Work

5

Vehicle Cleanliness

4

Communication

5

Staff

5

Prompt, efficient, no rip off gimmick time wasting expenses. Thanks again guys.

Yvonne Hassett

Quality of Work

5

Vehicle Cleanliness

3

Communication

5

Staff

5

Always helpful and advise before incurring any expense, 5 star

Dennis Jones

Quality of Work

5

Vehicle Cleanliness

5

Communication

5

Staff

5

My car (although 28 years old) has only done approx 43,000 miles, parts needed difficult to obtain - but they did. Excellent attention

Mrs J M Bevan

Quality of Work

5

Vehicle Cleanliness

5

Communication

5

Staff

5

No further comments

Mrs J hissett

Quality of Work

5

Vehicle Cleanliness

5

Communication

5

Staff

5

Always helpful never feel ripped off. Good service 10/10

Susan Ellis

Quality of Work

5

Vehicle Cleanliness

5

Communication

5

Staff

5

Progress reports by phone. Car cleaner than before when returned! Many thanks

Mrs Logan

Quality of Work

5

Vehicle Cleanliness

5

Communication

5

Staff

5

Shaws garage gives you excellent service and they were very helpful. I would use them again 10 out of 10.

Stefano Querci

Quality of Work

5

Vehicle Cleanliness

5

Communication

5

Staff

5

No further comments

H F Horobin

Quality of Work

5

Vehicle Cleanliness

5

Communication

5

Staff

5

Excellent customer service

Mrs J Smith

Quality of Work

5

Vehicle Cleanliness

5

Communication

5

Staff

5

I always use Shaws and recommend to others

G Slater

Quality of Work

5

Vehicle Cleanliness

5

Communication

5

Staff

5

No further comments

William Bleasdale

Quality of Work

5

Vehicle Cleanliness

5

Communication

5

Staff

5

Fantastic service, always happy to help. Nothing is ever too much touble. Wouldnt go anywhere else

Jason

Quality of Work

5

Vehicle Cleanliness

5

Communication

5

Staff

5

Very helpful & knowledgeable staff

Steve Hargrave

Quality of Work

5

Vehicle Cleanliness

5

Communication

5

Staff

5

Shaws are always polite and communicate effectively so you know where you stand. They are efficient and very reasonably priced.

Alison Bird

Quality of Work

5

Vehicle Cleanliness

3

Communication

5

Staff

5

Just had a service and mot done great job and great service from the staff concerned

Josie Price

Quality of Work

5

Vehicle Cleanliness

5

Communication

5

Staff

5

Moved to the area recently. Had my wife's Mercedes and mine serviced and MOTs. Convenient; friendly; very competent; competitively priced.

William Young

Quality of Work

5

Vehicle Cleanliness

5

Communication

5

Staff

5

Friendly, family business. Extremely helpful and work carried out punctually and competently.

Alan Payne

Quality of Work

5

Vehicle Cleanliness

5

Communication

5

Staff

5

Always very friendly and helpful, they only do the work required, but will advise if more work recommended. The work is always top quality.

Dennis Jones

Quality of Work

5

Vehicle Cleanliness

5

Communication

5

Staff

5

Excellent service by friendly helpful & knowledgeable staff. Give advise on future advisories, quoting a price

Tony Duke

Quality of Work

5

Vehicle Cleanliness

5

Communication

5

Staff

5

Very helpful & pleasant staff. Car MOT'd and reasonable quote given for work to rectify advisory item. Impressed - will use Shaw's again.

Tom Chapman

Quality of Work

5

Vehicle Cleanliness

5

Communication

5

Staff

5

My car was collected quickly, battery tested overnight and a new battery installed. Car delivered back to my house. A great service. Thank you

Edna Khambatta

Quality of Work

3

Vehicle Cleanliness

3

Communication

3

Staff

3

Friendly, helpful staff, excellent communication and great service. Highly recommended.

John Crossley

Quality of Work

5

Vehicle Cleanliness

5

Communication

5

Staff

5

great service and very friendly staff.Would recommend to any one.

Mr S JAAP

Quality of Work

5

Vehicle Cleanliness

5

Communication

5

Staff

5

ALL ASPECTS 100% plus

ALAN DANSON

Quality of Work

5

Vehicle Cleanliness

5

Communication

5

Staff

5

Shaws are always polite, efficient and prices are very good. Service is excellent if the job is big or small. Much eaper than main dealers

Jean Spencer

Quality of Work

5

Vehicle Cleanliness

5

Communication

5

Staff

5

Smooth process from booking car in for MOT to picking car up after. Distancing rules, staff courteous and helpful. Will use Shaws again.

Tom Chapman

Quality of Work

5

Vehicle Cleanliness

5

Communication

5

Staff

5

Great job, ready on time- safe place to enter, Pleased it passed, booked in for a service, advisory on front brake. Certainly would recommend

Christine Lynch

Quality of Work

5

Vehicle Cleanliness

5

Communication

5

Staff

5

Brilliant service at the right price, highly recommended

Barry horspool

Quality of Work

5

Vehicle Cleanliness

5

Communication

5

Staff

5

excellent service would highly recommend.

ronald knights

Quality of Work

5

Vehicle Cleanliness

5

Communication

5

Staff

5

Always a very helpful and professional service. Issues with our vehicles have always been resolved quickly and to our satisfaction.

Louisa Crossley

Quality of Work

5

Vehicle Cleanliness

5

Communication

5

Staff

5

Shaw's have always done high quality work at a very reasonable price, the staff are very helpful and friendly, an excellent garage.

Nigel Graham

Quality of Work

5

Vehicle Cleanliness

5

Communication

5

Staff

5

Very pleased with their work.

Maureen Smith

Quality of Work

5

Vehicle Cleanliness

5

Communication

5

Staff

5

Excellent service really pleased

Maureen Smith

Quality of Work

5

Vehicle Cleanliness

5

Communication

5

Staff

5

Shaws serviced my car and replaced a Lambda sensor. Great price, all done within the advised time-frame. Very pleased - will use them again.

Tom Chapman

Quality of Work

5

Vehicle Cleanliness

5

Communication

5

Staff

5

MOT'd my car and van on 09/06/21 all done between 9.30am and 2.30pm including repairs to the van. Excellent service and friendly staff.

Ian Knowles

Quality of Work

5

Vehicle Cleanliness

5

Communication

5

Staff

5

Excellent service; fair price and always ready to help. Trust them to look after our cars without looking for extra jobs. Local/Trustworthy.

William Young

Quality of Work

5

Vehicle Cleanliness

5

Communication

5

Staff

5

Contact with staff is always pleasant, work completed carefully and promptly with no hidden charges. Excellent

Steve wyatt

Quality of Work

5

Vehicle Cleanliness

5

Communication

5

Staff

5

I highly recommend Ollys autos. Very professional, excellent customer service, honest and reliable.

Maxine jackson

Quality of Work

5

Vehicle Cleanliness

5

Communication

5

Staff

5

Just had my car MOT'd - Very helpful, courteous and efficient and prompt as always.

Tom Chapman

Quality of Work

5

Vehicle Cleanliness

5

Communication

5

Staff

5

Took my car in for it's MOT, received a call within the hour to say it had passed. Always friendly and a good service.

A J Howe

Quality of Work

5

Vehicle Cleanliness

5

Communication

5

Staff

5

At shaws you always get great service, nothing too much trouble great prices always friendly , helpful and informative staff to help you .

Susan rose

Quality of Work

5

Vehicle Cleanliness

5

Communication

5

Staff

5

Very helpful reception from initial contact and on the day itself. Efficient service. Would certainly recommend.

Ant

Quality of Work

5

Vehicle Cleanliness

4

Communication

5

Staff

5

Car battery dead, staff picked up car & arranged replacements all within 3 hours. Brilliant service.

Tony Duke

Quality of Work

5

Vehicle Cleanliness

5

Communication

5

Staff

5

Excellent service. Unable to collect car so garage delivered! Thank you.

Joanne Lane

Quality of Work

5

Vehicle Cleanliness

5

Communication

5

Staff

5

Fantastic service as usual from reminders, during and after care. Been using this garage for years and can't recommend them enough

Elfyn Thomas

Quality of Work

5

Vehicle Cleanliness

5

Communication

5

Staff

5

I recently had 4 new tyres fitted at shaws the whole team were brilliant will definitely use again

Janice mcneill

Quality of Work

5

Vehicle Cleanliness

5

Communication

5

Staff

5

They go above and beyond, i.e. I was physically unable to drive my car to them so they collected it, did the work, and returned it to me.

Edna Khambatta

Quality of Work

5

Vehicle Cleanliness

5

Communication

5

Staff

5

Cannot fault Shaw's Service Station, serviced my car in a timely manner and rang me when it was ready. Also got a complimentary winter pack.

Antony Trigg

Quality of Work

5

Vehicle Cleanliness

5

Communication

5

Staff

5

Excellent service and communication as always ,costs were explained by phone before work commenced and advisory future work explained.

Josephine

Quality of Work

5

Vehicle Cleanliness

1

Communication

5

Staff

5
Leave a Review
on Servicesureautocentres.com