Dukes Auto Tech – St Austell
Opening Hours
| | |
| --- | --- |
| Monday – Friday: | 08:30 – 18:00 |
| Saturday: | Appointment only |
| Sunday: | Closed |
Services Available
Car Service
Car Repair
Van & LCV Service & Repair
MOT Test Centre
Electronic Diagnostics
Car Battery replacement
Exhaust Repair & Replacement
Brake Service & Repair
Tyre Fitting & Repair
Air Conditioning Service
Clutch Replacement & Repair
Diesel Specialist
Courtesy Car Service
Car Collection & Delivery
While You Wait Appointments
Service & MOT Motor homes up to 6,500kg
A Friendly Garage You Can Trust. Independant Garage in St Austell, Cornwall offering a wide range of car repair, general maintenance and diagnostics.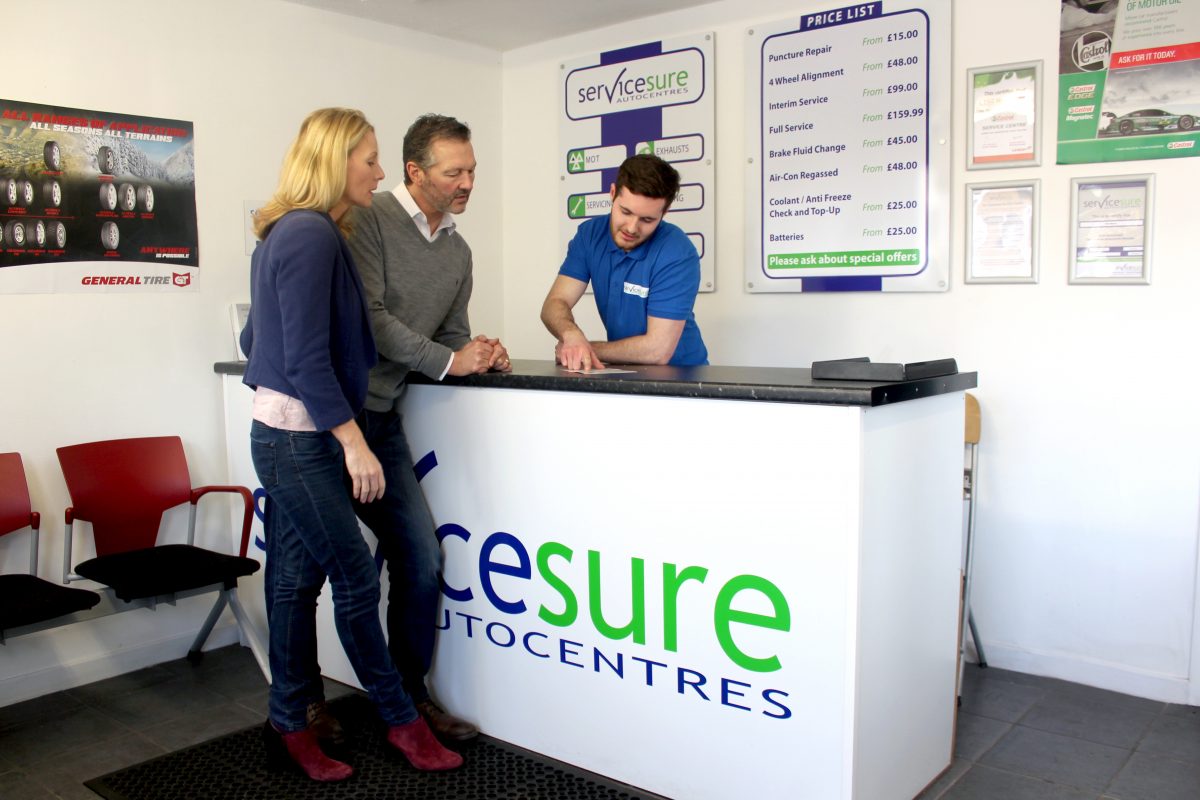 Give us 5 minutes of your time and we could be giving you £250!
We are always trying to improve the service we offer to our customers and value any feedback you give.
To leave feedback on the service you have received today please leave a review below and as a thank you for completing the questionnaire you will be entered into a prize draw and could win £250 worth of lifestyle vouchers*.
Reviews
by Servicesureautocentres.com customers
Very friendly, trustworthy and great value for money. Would recommend to anyone.

Stephen Brown

Quality of Work

5

Vehicle Cleanliness

5

Communication

5

Staff

5

I have been using the garage since it started up, I have watched its development and progression with the times,great husband and wife team

MR BARRETT

Quality of Work

5

Vehicle Cleanliness

5

Communication

5

Staff

5

What a wonderful garage! Gavin and Kerry are lovely, helpful people. Down to earth, great service and workmanship at a fair price.

Stacey Bradshaw

Quality of Work

5

Vehicle Cleanliness

5

Communication

5

Staff

5

Minor/major mechanical repair/service or even a major electrical rewire following an electrical fire.... look no further. 11/10 !

Nigel Ginger

Quality of Work

5

Vehicle Cleanliness

5

Communication

5

Staff

5

Most helpful staff ,really good workmanship , kept me in touch when the repairs were being done . Recommend this family run garage

John eaton .

Quality of Work

0

Vehicle Cleanliness

5

Communication

5

Staff

5

1st class people, honest and reliable. I have used Dukes Autotech for a few years now, would highly recommend, I wouldn't use anyone else.

Jan Brant

Quality of Work

5

Vehicle Cleanliness

5

Communication

5

Staff

5

I've been taking my vehicles to Dukes AutoTech for a few years I wouldn't go anywhere else , lovely people to deal with who do a great job

Rob mellow

Quality of Work

5

Vehicle Cleanliness

5

Communication

5

Staff

5

Friendly, helpful, good value for money and honest people. Wholeheartedly recommend to anyone. Thank you for looking after our cars!

Peter Syms

Quality of Work

5

Vehicle Cleanliness

5

Communication

5

Staff

5

This is the best garage in Cornwall. Period. I am a customer for life. Gavin and Kerry are wonderful people. Thank you for what you do.

David Howe

Quality of Work

5

Vehicle Cleanliness

5

Communication

5

Staff

5

I am blown away by how friendly this garage is. I arrived as a customer, and left as a friend. Recommend 120%. Thank you all :)

Mark Butler

Quality of Work

5

Vehicle Cleanliness

5

Communication

5

Staff

5

Service with a smile, fair prices and quality workmanship. Why would you want to take you car anywhere else? Thank you :)

Peter C.

Quality of Work

5

Vehicle Cleanliness

5

Communication

5

Staff

5

What a great garage, always help me and get me back on the road quickly, I have given the garage some tricky jobs and it's been sorted A+

Paul Kelly

Quality of Work

5

Vehicle Cleanliness

5

Communication

5

Staff

5

Kerry went out of her way to help me even though she has a fractured spine! Brilliant, kind customer service despite being in obvious pain.

Ian Smith

Quality of Work

5

Vehicle Cleanliness

5

Communication

5

Staff

5

A Friendly Garage You Can Trust is their motto, and they stick to it. Owners are lovely, Kerry is so friendly and Gavin knows his stuff. A*

Mark D.

Quality of Work

5

Vehicle Cleanliness

5

Communication

5

Staff

5

Honest, trustworthy, friendly and professional. They fixed my problem and kept me updated throughout. I have finally found a garage I trust.

Andrew Marks

Quality of Work

5

Vehicle Cleanliness

5

Communication

5

Staff

5

Found and fixed my problem within a couple of hours when 3 other garages had failed to do so. Friendly owners, staff and fair prices.

Liam B.

Quality of Work

5

Vehicle Cleanliness

5

Communication

5

Staff

5

This is the only garage that I feel comfortable going to. Everyone is friendly and kind. Workmanship is great and prices are very fair.

Susan West

Quality of Work

5

Vehicle Cleanliness

5

Communication

5

Staff

5

Wonderful Garage. Friendly, down to earth service with a smile. Skilled mechanics who fixed my fault before I'd finished my cuppa. A***

David Malks

Quality of Work

5

Vehicle Cleanliness

5

Communication

5

Staff

5

This is such a friendly garage. Everything was explained in plain English. My car was fixed where 3 other garages had failed. Thank you

Amy Viners

Quality of Work

5

Vehicle Cleanliness

5

Communication

5

Staff

5

Such an honest garage. I had been told I needed all new brakes elsewhere. Booked with Dukes and they showed me all was ok. No charge at all.

James Angel

Quality of Work

5

Vehicle Cleanliness

5

Communication

5

Staff

5

Good communication. Friendly owners and staff. Fair pricing. Good quality parts and workmanship. What more do you want from a garage?

Steve Daulton

Quality of Work

5

Vehicle Cleanliness

5

Communication

5

Staff

5

Visited this garage for the first time today. What a lovely experience! Such helpful people who squeezed me in and helped me there and then!

Leanne J

Quality of Work

5

Vehicle Cleanliness

5

Communication

5

Staff

5

As a single woman I am always worried about going to a garage on my own. I was so pleased that everyone was friendly and kind. Thank you! A*

Leanne Hodgeson

Quality of Work

5

Vehicle Cleanliness

5

Communication

5

Staff

5

Gavin and Kerry are the nicest garage owners I have ever met. I will never go anywhere else again. So kind and caring. Thank you for what you do

Jasmine Keates

Quality of Work

5

Vehicle Cleanliness

5

Communication

5

Staff

5

Fantastic garage work carried out in a speedy time, brilliant communication, price was excellent. Even when the alarm drove them mad.

Claire

Quality of Work

5

Vehicle Cleanliness

5

Communication

5

Staff

5

Such friendly people. A*** service. Price was what I was quoted and I was kept updated. Problem was fixed in a day. Thank you all.

Elaine Thompson

Quality of Work

5

Vehicle Cleanliness

5

Communication

5

Staff

5

I broke down over Christmas with no lights. These people came out in their own car whilst I waited for the AA with a flask of tea! So kind!

Elaine Foster

Quality of Work

5

Vehicle Cleanliness

5

Communication

5

Staff

5

Lovely owners and friendly staff. 0% Finance option was so helpful as we broke down at the worst time possible! Thank you for all your help

Mike Dante

Quality of Work

5

Vehicle Cleanliness

5

Communication

5

Staff

5

Gavin & Kerry are a credit to the trade. They are professional, fairly priced and above all kind. High quality workmanship with a smile. A*!

David Jameson

Quality of Work

5

Vehicle Cleanliness

5

Communication

5

Staff

5

Fantastic friendly people who took the time to thoroughly explain the issue with my car. I have finally found a garage I can trust! Thanks

Andrew Knight

Quality of Work

5

Vehicle Cleanliness

5

Communication

5

Staff

5

Friendly, honest & informative customer service & quality work at a fair price. The best garage in St Austell by far. Thanks for everything!

Jamie Sweet

Quality of Work

5

Vehicle Cleanliness

5

Communication

5

Staff

5

What a helpfull garage,We broke down on our way to a appointment and they fitted our car in and sorted the problem in record time

Walter cartworthy

Quality of Work

5

Vehicle Cleanliness

5

Communication

5

Staff

5

Fantastic, friendly, honest service with a smile! Fixed my car quickly and kept me informed with progress. Recommend 100%. Thank you!

Naomi Pearson

Quality of Work

5

Vehicle Cleanliness

5

Communication

5

Staff

5

Always an excellent service from Gavin and Kerry. They do a super job and always very honest , reliable and trustworthy.

Donna Barnes

Quality of Work

5

Vehicle Cleanliness

5

Communication

5

Staff

5

very good service and explained problem very good

Mr Keith bennetts

Quality of Work

5

Vehicle Cleanliness

5

Communication

5

Staff

5

Exellant service, would not go anywhere else if I had issues with my car outstanding workmanship have recommend to friends, top garage!!!!

Nigel allen

Quality of Work

5

Vehicle Cleanliness

5

Communication

5

Staff

5

Thank you for the work on my vehicle. Despite a new part failing (not dukes' faulty) they went above and beyond to sort it out.

Colin Wooldridge

Quality of Work

5

Vehicle Cleanliness

4

Communication

5

Staff

5

Friendly, honest and trustworthy. Just like their motto. These guys are exactly what all garages should aspire to be like. Recommend 120%

Sarah Trudgian

Quality of Work

5

Vehicle Cleanliness

5

Communication

5

Staff

5

Fantastic, friendly, honest garage. Fairly priced and great service. Kerry is an asset to her business and her team. Recommend 200%

Chris Stephenson

Quality of Work

5

Vehicle Cleanliness

5

Communication

5

Staff

5

I second the opinion that Kerry is an asset to her business and team. She was polite & helpful when explaining what was wrong. Thank you :)

James Marshall

Quality of Work

5

Vehicle Cleanliness

5

Communication

5

Staff

5

I second the opinion that Kerry is an asset to her business and team. She was polite & helpful when explaining what was wrong. Thank you :)

James Marshall

Quality of Work

5

Vehicle Cleanliness

5

Communication

5

Staff

5

I am currently sat in reception of this lovely garage. Herbal tea and a biscuit, & friendly service with a smile. What more could you want?

R. Smith

Quality of Work

5

Vehicle Cleanliness

5

Communication

5

Staff

5

Always get the best service and advice from Dukes. They've managed to get to the bottom of a number of issues with my little car!

Isobel McKellar

Quality of Work

5

Vehicle Cleanliness

5

Communication

5

Staff

5

Always so helpful and very good work

Dany

Quality of Work

3

Vehicle Cleanliness

3

Communication

3

Staff

3

I was recommended to use this garage by a friend. I am so glad they did! Amazingly helpful and friendly. Recommend 100%

Dawn Peckham

Quality of Work

5

Vehicle Cleanliness

5

Communication

5

Staff

5

Always get the best service and advice from Dukes. They've managed to get to the bottom of a number of issues with my little car!

Isobel McKellar

Quality of Work

5

Vehicle Cleanliness

5

Communication

5

Staff

5

Always get the best service and advice from Dukes. They've managed to get to the bottom of a number of issues with my little car!

Isobel McKellar

Quality of Work

5

Vehicle Cleanliness

5

Communication

5

Staff

5

Fantastic service, wouldn't go anywhere else.

Belinha Sandey

Quality of Work

5

Vehicle Cleanliness

5

Communication

5

Staff

5

Fantastic service, wouldn't go anywhere else.

Belinha Sandey

Quality of Work

5

Vehicle Cleanliness

5

Communication

5

Staff

5

Fantastic service, without the great work of the team we would have been stuck in Cornwall

John loveday

Quality of Work

5

Vehicle Cleanliness

5

Communication

5

Staff

5

Perfect services, 100% recommend. Very friendly service

Stu Davey

Quality of Work

5

Vehicle Cleanliness

5

Communication

5

Staff

5

Fantastic garage offering many great additional services that you would expect to see at a chain. I recommend them 100% Thank you :)

Steve J

Quality of Work

5

Vehicle Cleanliness

5

Communication

5

Staff

5

Kind and friendly owners, trained & skilled staff, great workmanship at affordable prices. The best garage in Cornwall. 1000% Thank you :)

Janice Pritchard

Quality of Work

5

Vehicle Cleanliness

5

Communication

5

Staff

5

I had taken my car to VW 4 times and they failed each time to find the problem. In 1 afternoon Dukes AutoTech fixed it! A+++ thank you!

Jeremy L

Quality of Work

5

Vehicle Cleanliness

5

Communication

5

Staff

5

Great communication, great service, brilliant price and lovely people

Mike Graham

Quality of Work

5

Vehicle Cleanliness

5

Communication

5

Staff

5

Very much good service to fix my car and me and my family to carry on our journey, a thousand thank yous

Amin yashed

Quality of Work

5

Vehicle Cleanliness

5

Communication

5

Staff

5

Fantastic garage! I've never felt so at ease when getting my car fixed. Great price, finance options if needed and explained in English. A*

Jayne P.

Quality of Work

5

Vehicle Cleanliness

5

Communication

5

Staff

5

Very much good service to fix my car and me and my family to carry on our journey,a thousand thankyou's

Amin yashed

Quality of Work

5

Vehicle Cleanliness

5

Communication

5

Staff

5

What can I say but best garage around, always keep you informed on progress, very friendly and polite, would not go anywhere else.

gerry borlase

Quality of Work

5

Vehicle Cleanliness

5

Communication

5

Staff

5

Kerry was extremely professional, kind and friendly from start to finish. From booking in, to collection her customer service was perfect.

P. Dugan

Quality of Work

5

Vehicle Cleanliness

5

Communication

5

Staff

5

Very kind people at this garage. They fixed my car and explained everything in plain English. I have recommended them to my family.

Gladys Glenhill

Quality of Work

5

Vehicle Cleanliness

5

Communication

5

Staff

5

I have been using this garage for years. Nothing is too much trouble for them. Their new reception is lovely and matches their service.

Jane F.

Quality of Work

5

Vehicle Cleanliness

5

Communication

5

Staff

5

This garage's response to the pandemic is amazing for a small business. They should be congratulated for being so organised and safe.

Steve.

Quality of Work

5

Vehicle Cleanliness

5

Communication

5

Staff

5

Fantastic garage. Went above and beyond to help me and my family when we had a crisis. Friendly husband and wife owners who were so kind. A*

Elaine

Quality of Work

5

Vehicle Cleanliness

5

Communication

5

Staff

5

Fantastic garage! Lovely people, great service, national warranty and great prices. What more could you want? Thanks for fixing my car! :)

Ali Sturgess

Quality of Work

5

Vehicle Cleanliness

5

Communication

5

Staff

5

Been coming here for years. Always friendly, helpful and fairly priced. I have moved but still travel here for my cars. Recommend to anyone!

Steve W.

Quality of Work

5

Vehicle Cleanliness

5

Communication

5

Staff

5

Fantastic garage. Been coming here for years. Nothing is ever too much trouble and they are always happy and smiling. Thanks for everything!

Helen Childs

Quality of Work

5

Vehicle Cleanliness

5

Communication

5

Staff

5

I cannot fault Dukes Autotech! Amazing customer service, amazing work on my car! They do everything they can to support you! Thank you!

Bryony

Quality of Work

5

Vehicle Cleanliness

5

Communication

5

Staff

5

This garage is so friendly! Lovely staff who explained everything clearly. My car was fixed within the day am for the price quoted. Thanks!

Melissa Middleton

Quality of Work

5

Vehicle Cleanliness

5

Communication

5

Staff

5

Such a friendly garage. Everyone was so kind and helpful. My car was fixed quickly and for less than I expected. I'm a customer for life now

Sian Trethewey

Quality of Work

5

Vehicle Cleanliness

5

Communication

5

Staff

5

Cracking price on tyres, amazing service :-)

Mr Bond

Quality of Work

5

Vehicle Cleanliness

5

Communication

5

Staff

5

Kerry and her team are professional, kind and courteous. This is the only garage I have fully trusted in all my years of motoring.

Jamie

Quality of Work

5

Vehicle Cleanliness

5

Communication

5

Staff

5
Leave a Review
on Servicesureautocentres.com